This Valentine's Day, live the most romantic experience with Daguisa Hotels.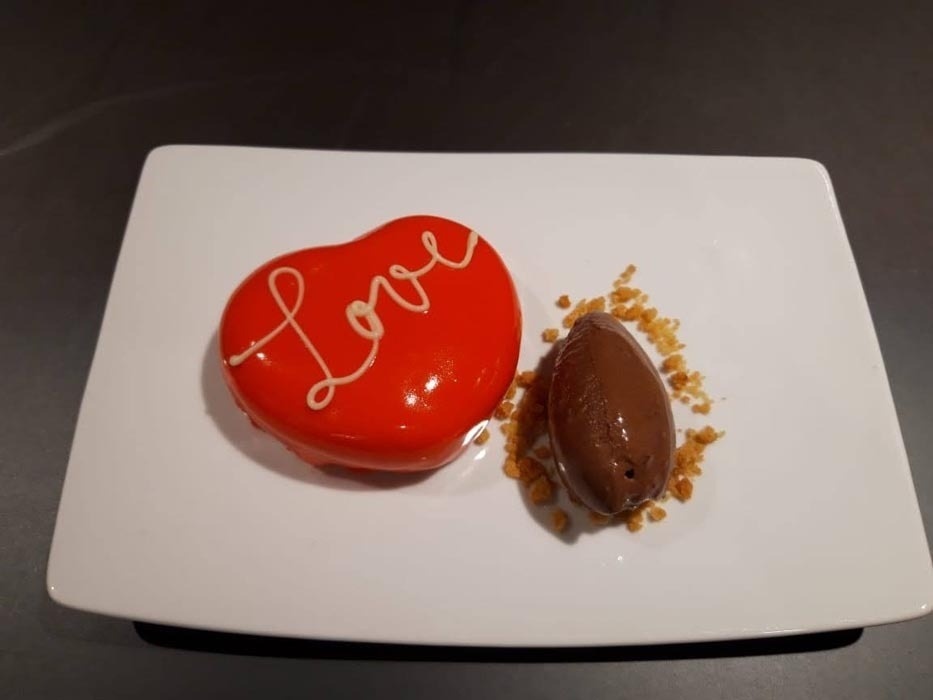 The most romantic days of the year are approaching and at Daguisa Hotels, with Cupid's help, we have prepared everything you need to celebrate love with your partner and also to help you not to fall into routine and to keep the flame of love burning. Discover how to celebrate Valentine's Day in Andorra!
INDEX
1. The bridge of love
2. Looking for thrills?
3. Savour the tradition
4. Gifts that conquer
5. An adults-only spa
6. The romantic room in Andorra
1. The bridge of love
Our Valentine's Day journey begins in the south of the country, at the largest surviving medieval bridge in the Principality of Andorra:
puente de La Margineda
, which crosses the country's main river, the Valira. Located on the royal road that formerly connected Andorra la Vella with Sant Julià de Lòria and built during the 15th century, it is 33 metres long and has a single arch with a nine-and-a-half-metre wide coping.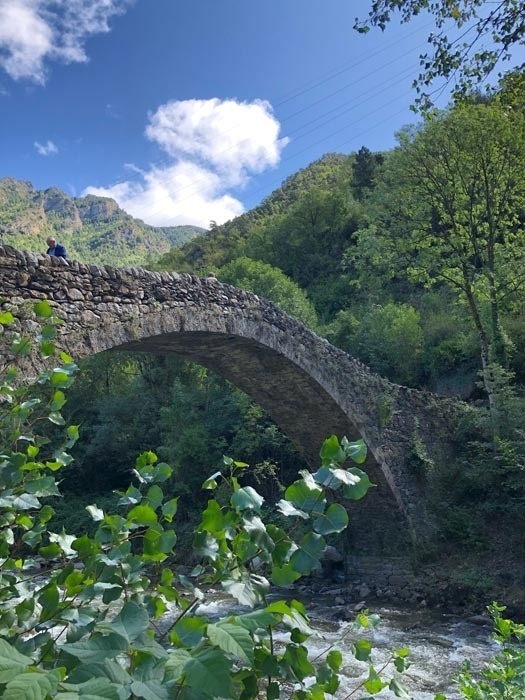 La Margineda bridge in springtime
This is an essential visit for all lovers of culture in general and Romanesque art in particular. But its location and surroundings make it an ideal setting, with a very romantic landscape, for a declaration of love or to strengthen your engagement. Once there, take the opportunity to visit the village of La Margineda and get to know the place where the "Barracas de la Margineda" are held, a typical festival that has been revived in recent years.
But don't forget to stop by the
Juberri Gardens
, 1,275 metres high, which were created by a neighbour who collected artistic sculptures and animal sculptures, which can be seen in the local forest after an agreement with the town council of Sant Julià de Lòria. The snow will undoubtedly provide a unique backdrop!
2. Looking for thrills?
If you prefer strong emotions, apart from winter sports on the more than 300 km of ski slopes in Andorra, you have other options to release your adrenaline. Such as, for example, the
Tobotronc Naturland
.
It is, without a doubt, a very original and unique way to enjoy a lush mountain forest, now at this time of year dressed in the white of the snow. It's no longer about hiking or cycling, but a two-seater on rails like a roller coaster: an unforgettable experience and highly recommended for those who like thrills and spills.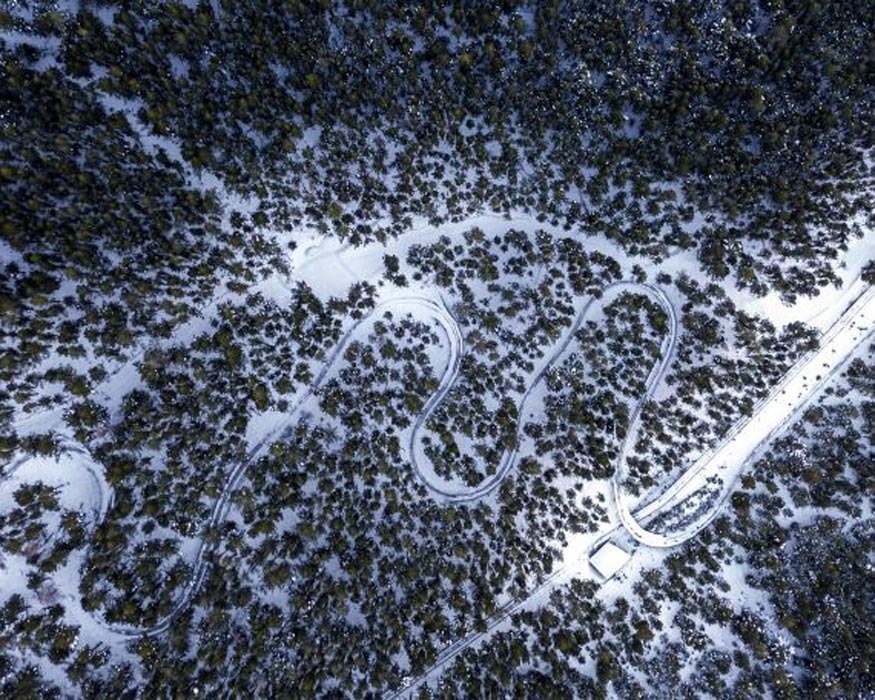 (image credit: Naturland)
With a length of more than five kilometres, we are talking about the longest nature slide in the world, with a drop of 400 metres that will allow you to go down slopes at speeds of up to 35 km/h. This speed can be regulated with the lever brakes and allows this attraction to be enjoyed by both the most adventurous and the most cautious. It is the perfect combination of intense emotions and scenic beauty in areas that cannot be accessed by motorised vehicles.
3. Savour the tradition
Heir to a centuries-old tradition linked to the aromas and flavours of the high mountains, Andorran cuisine is conditioned by the seasons and seasonal produce. Over the years it has been influenced by French and Catalan cuisine, and today it will allow you and your partner to enjoy a menu to match your palate.
From Daguisa Hotels we propose a gastronomic getaway to discover the flavours and textures of the signature tapas of our The Lobby Bar, with an informal lunch or dinner.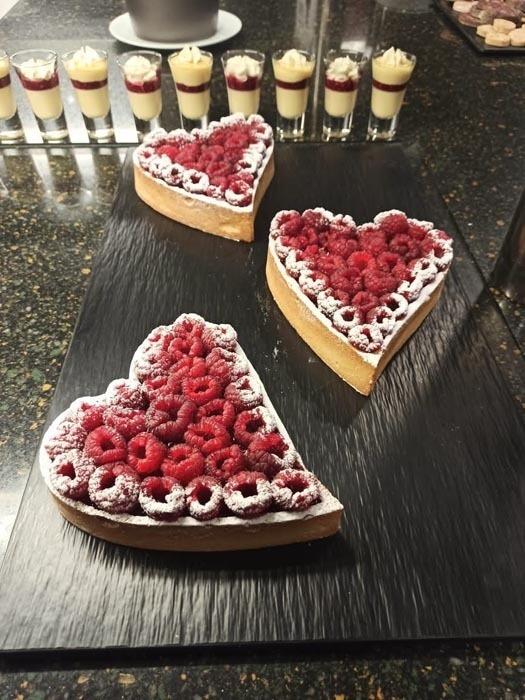 However, we have a range of possibilities to suit all tastes. For example, at the Kronos restaurant at the Golden Tulip Andorra Fènix Hotel 4*, run by chef Narcís Allué, you can enjoy a cuisine that combines sea and mountain. On the other hand, in the Tapad'era restaurant, at the Tulip Inn Andorra Delfos Hotel 4*, you will have an original menu, with a wide variety of dishes with Catalan, international and market cuisine.
4. Gifts that conquer
On your trip to Andorra as a couple, take the opportunity to buy a gift and surprise them. The Principality, known as a shopping destination, is a perfect setting for this. Both of you will be able to explore the different shopping centres and more than a thousand shops located mainly on Avinguda Carlemany, just a minute's walk from our two city hotels (Golden Tulip Andorra Fènix Hotel 4* and Tulip Inn Andorra Delfos Hotel 4*). What's more, now that we are in the sales period, you are sure to find unique and irresistible offers on fashion, technology, consumer electronics and cosmetics.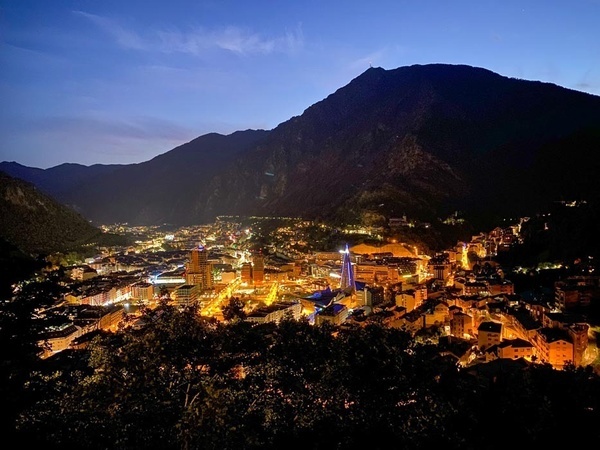 5. An adults-only spa
After declaring your love, going down a natural toboggan, enjoying Andorran gastronomy and going shopping, you will also need a moment to disconnect and relax. In our establishments, both in town and in the mountains, we have a wellness area with water areas, jacuzzi, sauna and even special facial and general treatments to complete your Valentine's Day celebration.
In addition, thanks to Daguisa you can also enjoy Caldea, one of the icons of Andorra, which is also just a few minutes' walk from our two city hotels. And, within the leading thermal spa in southern Europe, you can access Inúu, an ideal spa for couples, as only people over 16 years old have access to it. Through our special packages of accommodation plus entrance to Caldea you can take advantage of special prices.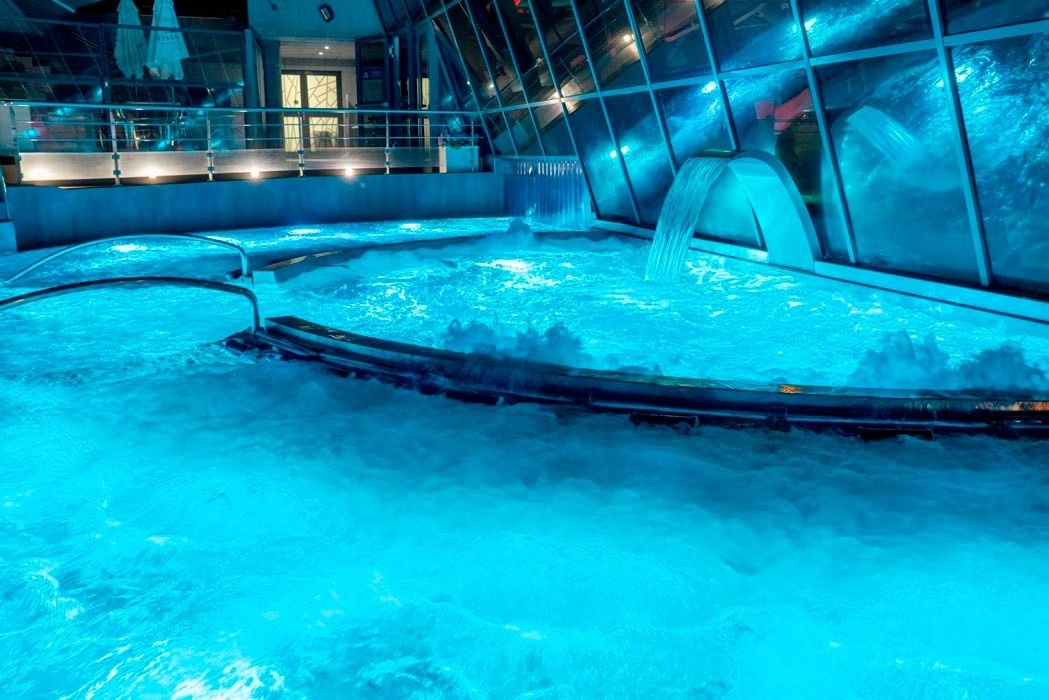 (image credit: Caldea)
Complete your romantic trip to Andorra by unwinding in an outdoor jacuzzi, with a swim in a panoramic pool overlooking the Valira or pampering your skin with an Argan oil massage, the thermal spa is a 'must' on your visit.
6. The romantic room in Andorra
Every romantic celebration for Valentine's Day always deserves a unique room designed for love with all the details to make your stay unforgettable. In this case we are undoubtedly talking about the Margarita Suite at the Golden Tulip Andorra Fènix Hotel 4*.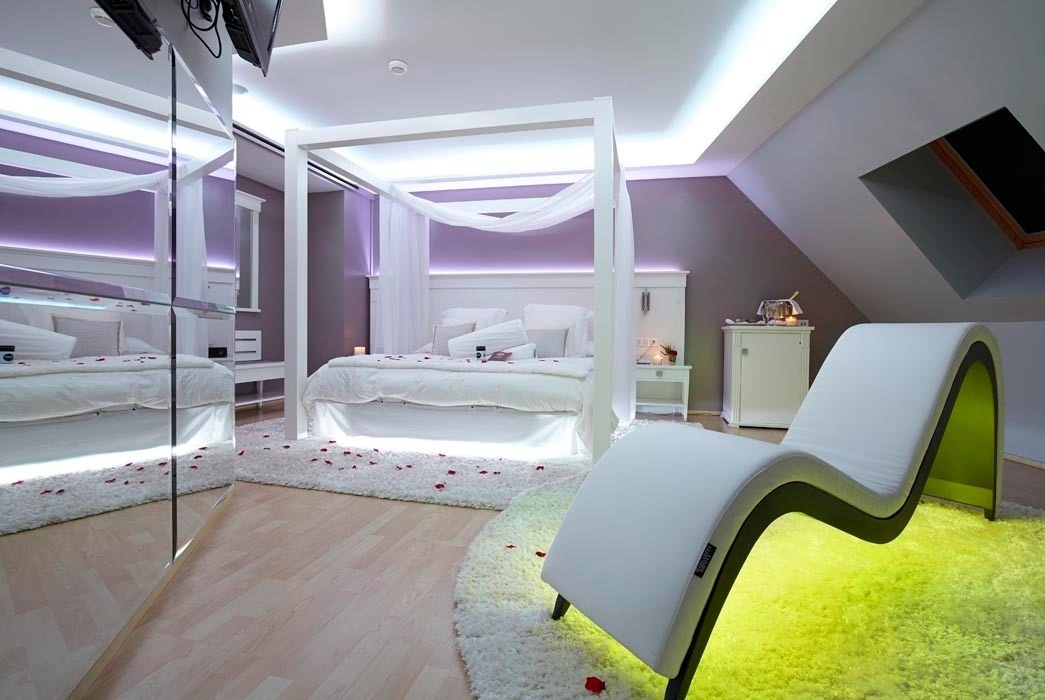 Not only is it the first and only room of its kind in the country, but it will become the icing on the cake of your romantic getaway. It has a special atmosphere, complements and decoration, as well as being equipped with Clean Wifi, a latest generation technology that has been scientifically tested and proven to compensate for the electromagnetic pollution generated by the many electronic devices that surround us.
You can control the music in the room via a tablet, select different tones and colours of lighting with a remote control, and play with the different modes in the bed, as it has a rhythm and intensity that can be adjusted to suit your tastes. In white and minimalist tones, with beautiful views of Escaldes-Engordany, it is your perfect and ideal option, with a concept of romantic use whose central element is the bed with movement.
For our part, at Daguisa Hotels, we will take care of even the smallest detail, with petals in the middle of the room indicating the path of love, for example.
Maria Baraldés, Deputy Director of Fènix and Delfos
Comentários