Desfrute de Andorra com a sua família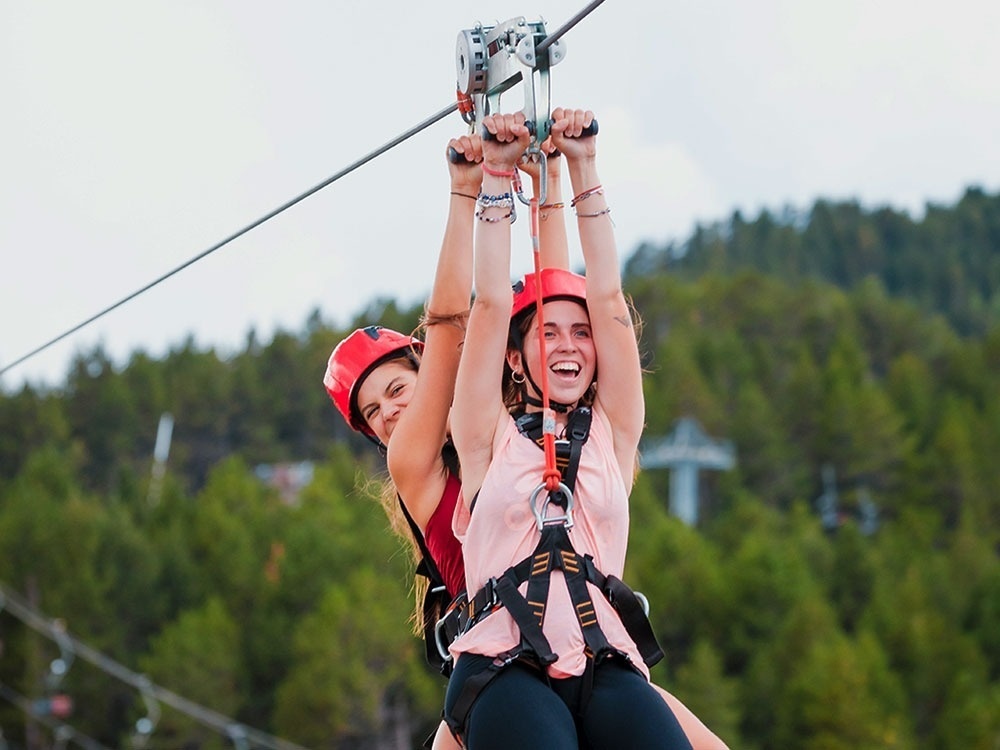 Traveling with the family is one of the best experiences you can have in life, especially when it comes to a holiday in Andorra. The Principality, known for its natural beauty, outdoor activities and culture, is a perfect destination if you are thinking of travelling with your children. To help you, here are some activities and tips to make your next visit to the country a unique experience.
INDEX
1. Glide along the best tracks
2. Beyond skiing
3. Indoor activities
4. Magical hiking
5. Descents and strong emotions
6. An entertaining rest
7. Tips for traveling with boys and girls
8. Themed rooms for the whole family
1. Glide along the best tracks
Talking about Andorra is making it a popular country for skiing. Although we are already entering the spring, we still have a few weeks to take advantage of the ski season in the Principality. In addition, the more than 300 km of slopes offer a wide variety of tracks for all levels, both for beginners and for the most experts, whatever their age. To top it off, whether in El Pas de la Casa, Encamp, Grau Roig or Ordino Arcarlís, you can enjoy their Kids Forests. These circuits are set and decorated with children's motifs that represent the typical animals of Andorra, in which children and children can ski, improve their skills and assume new challenges with which they will improve technique and balance.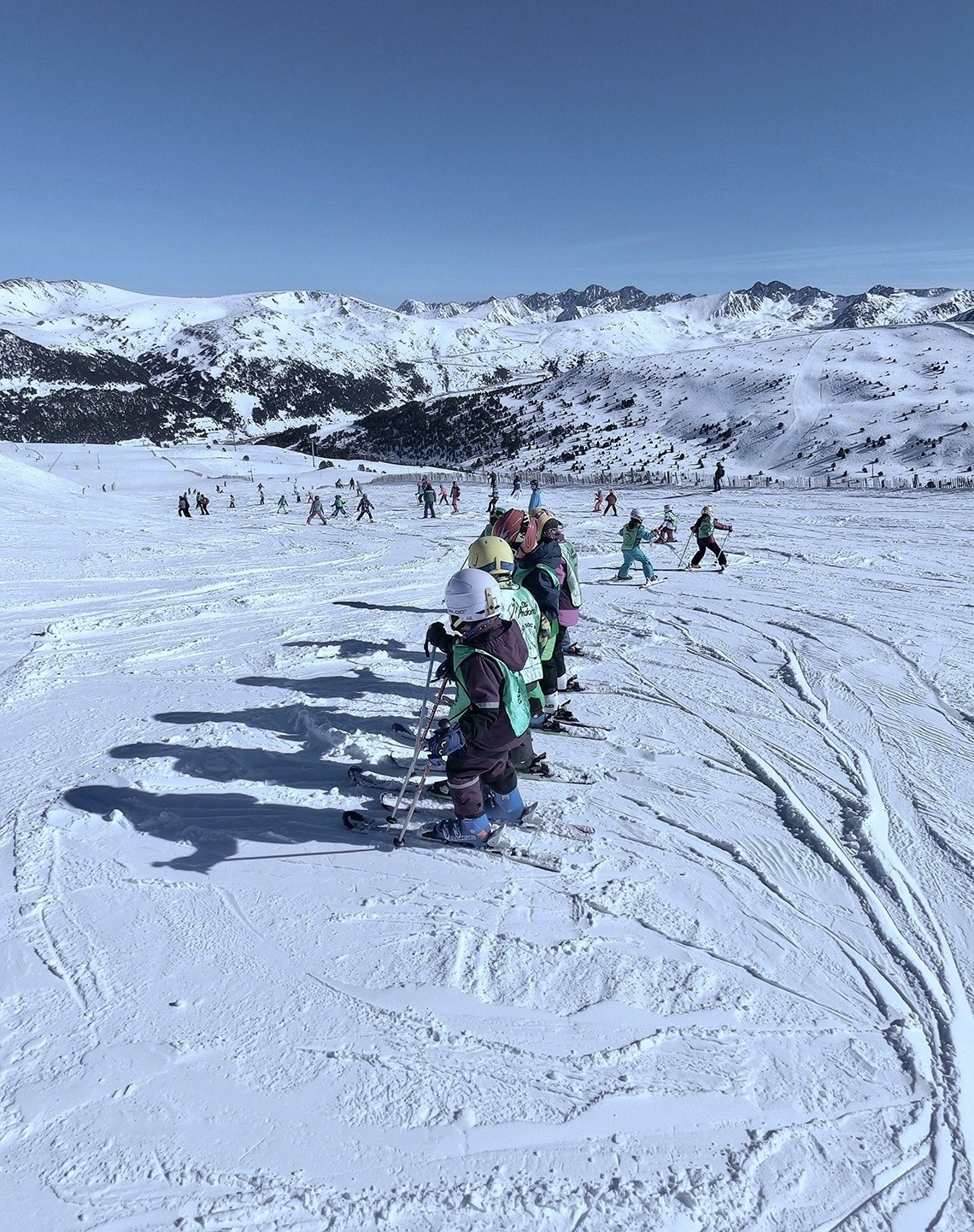 Also, the other sectors of Grandvalira also offer services to make your family experience in the snow unbeatable. And, remember, if at home you are more of a cross-country ski than an alpine ski, in Naturland you have at your disposal the cross-country ski slopes, located in the upper area of the height of 2,000 of the center.
2. Beyond skiing
Staying in the snow, there is life beyond skiing (or snowboarding). You can enjoy, as a family, this magical white mantle that covers our country, either with snowshoes, in the company of the best friend of the human being or on the back of a snowmobile. Also, another option is to build your own igloo in Grau Roig (Grandvalira). What do you prefer?
If you opt for the first option, with routes in all the stations of the Principality, you only need to choose the level of difficulty of the route and the duration according to your possibilities so that the tour adapts to you and is a success. Also, keep in mind that snowshoeing can be done with or without a guide.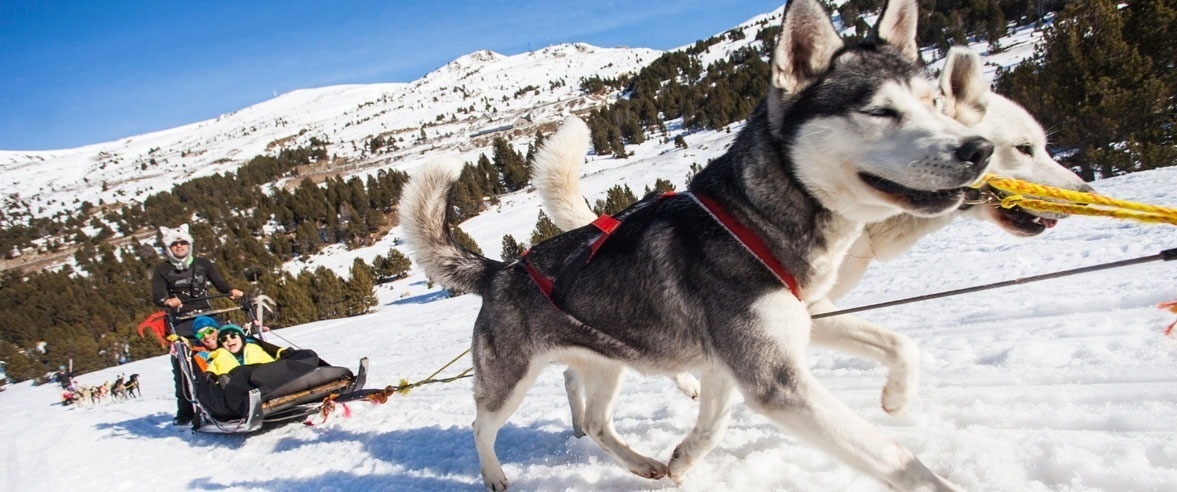 (credit image: Visit Andorra)
On the other hand, if you are in El Tarter or Grau Roig, you can enjoy the snow ride on sleds dragged by dogs, activity that is also known as 'mushing'. Experience the sensation of speed on the snow while enjoying the landscape that will open before your eyes; images that will stay in your memory forever. And if you like speed, Why not live unique and fun moments on a snowmobile? In Naturland you will find different circuits that you can do at your own pace, or with the company of a guide.
3. Indoor activities
Although in a country like Andorra, with its captivating nature, thinking about indoor activities may seem like a sacrilege, there are also other options that allow you to have a good time. In the Palau de Gel de Canillo you will find an Olympic ice rink where you can practice ice skating, hockey, ballon-balai, curling or karting on ice.
Yes, you read correctly: riding on the ice rink; activity to which children from 8 to 15 can also sign up, with a special track for them. So you know, summon your team and get ready for some fun timed races!
4. Magical hiking
Although we like snow very much, in Andorra we can also enjoy the months without it and continue enjoying the landscapes. In fact, the Principality is the perfect place to enjoy nature and fresh air. You will have several walking trails, adapted to all levels, with which to explore the beautiful landscapes of the country and spend quality time with your family.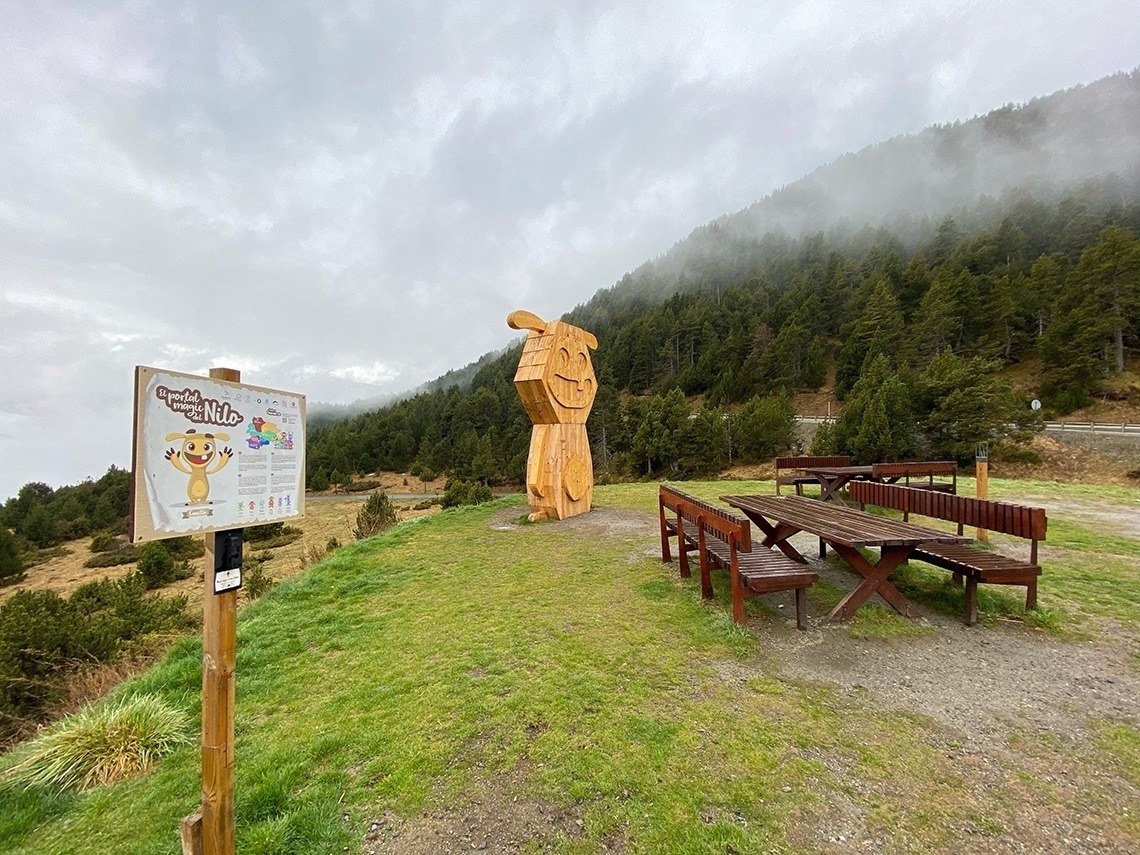 Do you know Macarulla? Distributed throughout the country's forests, these are easy-to-reach family itineraries that allow children to get closer to nature, in a fun and enjoyable way. A magical trail full of surprises for children to stimulate their imagination while following a guide book with indications to discover the menairons, small magical beings of the Andorran mountains.
Another option is to find the tamarro. These naughty beings live in their particular world. They are half legend and half popular imagination and, as far as we know, at least seven of them live in Andorra. They are hard to see, because they are very fast, but also because they only leave their world when we need them. Each of these seven has the mission of protecting the natural environment of the seven parishes. And if you want to find them, just go to the tourist offices and, with the card they will provide, mark each of the tamarros you find. ¡ To search it has been said!
5. Descents and strong emotions
If you like strong emotions at home, Andorra is not only about going down the ski slopes, but there is much more: the Forest Line and Naturland tubbing are two options. Can you imagine a descent at full speed as you see a spectacular snowy landscape from a bird's eye view? Well, you just have to jump on the ziplines of Andorra to discover it. Incredible!
Beyond the summer activities of Mon(t) Màgic de Grandvalira, once the ski season ends, in Pal Arinsal and whatever the time of year, you have the option of descending by a zip line up to 300 meters long. It is also an activity that those over 3 years of age can also practice with a minor route. However, if you want to live the experience with your son or daughter, you have the option of going down in tandem and hanging from the same pulley.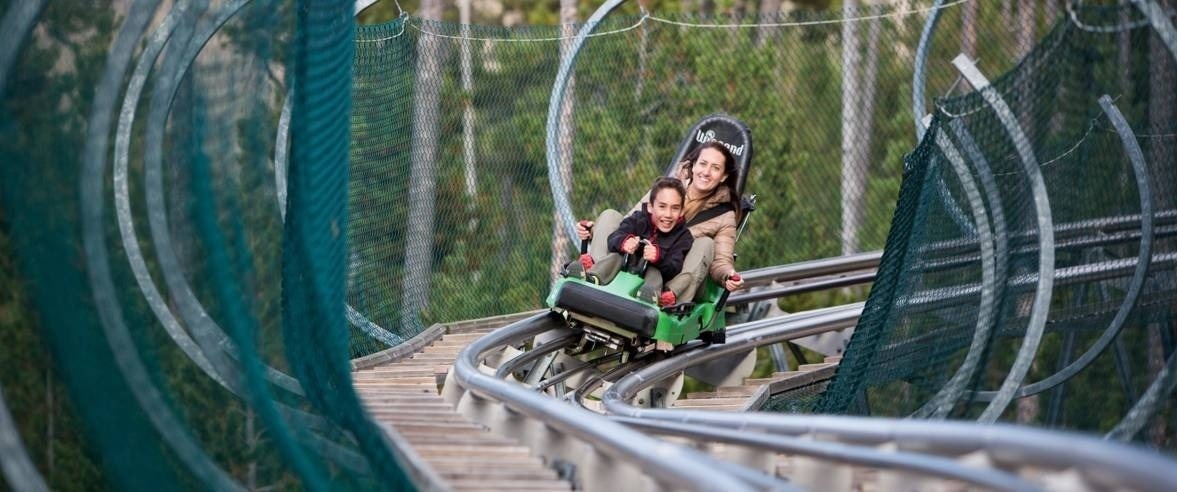 (credit image: Visit Andorra)
The Forest Line, at 1600 Naturland, although defined as a zip line, is still a suspended rail at a height of 3 and 7 meters with which to travel the forest among the trees at full speed. With the tubbing, you can slide downhill on an inflatable shaped like a wheel, through a specially conditioned track. ¡ Download adrenaline with the giant doughnut!
Not to mention the Tobotronc, also in Naturland, and one of the longest and most spectacular attractions in Europe in this genre. A two-seater with which to travel the more than five kilometers and 400 meters of altitude while we contemplate a forest in perfect condition.
6. An entertaining rest
Adults tend to have the belief that we are the ones who need a rest, obviating that they may also need it. It is true that, if we think of a thermal center, and in Andorra Caldea is the reference, is known the exclusive area for over 16 years, Inúu. But do you know Likids?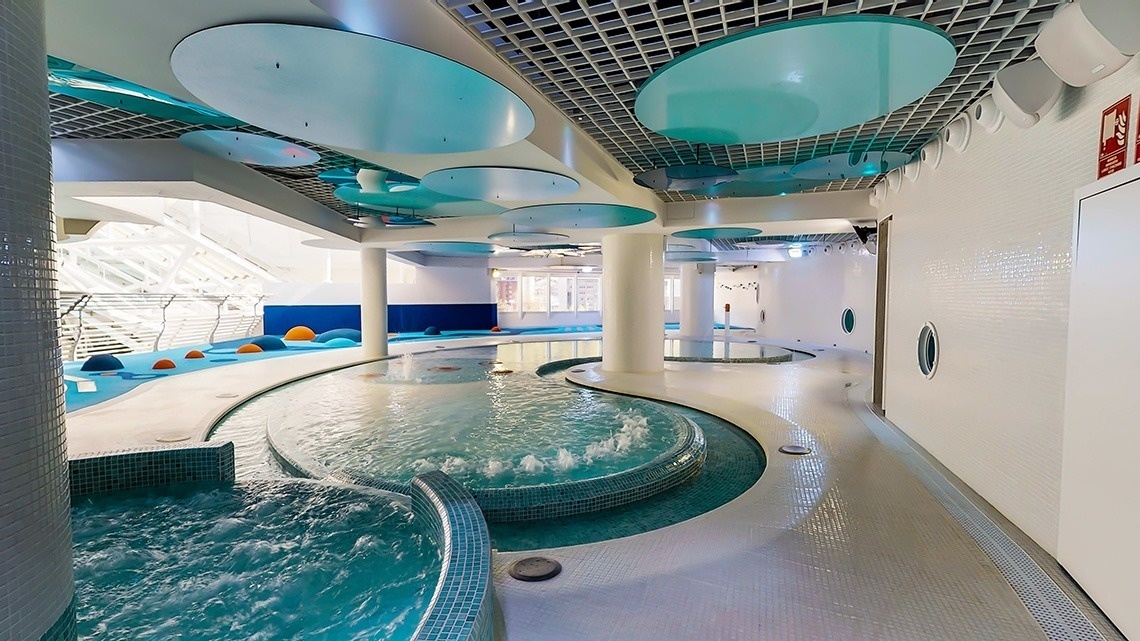 (credit image: Caldea)
Designed, designed and adapted for children from 3 to 8 years old, Likids is a spa where they will live an unforgettable day while experimenting with water and the various free activities designed for them, always under the supervision of a team of specialized professionals. Thus, they can enjoy their first thermal experience without your company, because we all need a good rest!
7. Tips for traveling with boys and girls
Travelling with children can be a challenge, but with a little planning and preparation, you can make your holiday in Andorra fun and stress-free. Some basic tips we can offer: Make flexible plans, and be prepared for last minute changes. Prepare your bags well, making sure you have everything you need for your shoots, from toys to comfortable clothes and footwear, but also medicines.
A third tip is the recommendation to have an emergency plan in case something goes wrong during your vacation. Finally, choose your accommodation well. And in this area, at Daguisa Hotels we are experts and we can offer you what you need.
8. Themed rooms for the whole family
While either of the two city hotels, in the commercial center of Escaldes-Engordany, as in the three mountain establishments, in the Vall d'Incles, el Pas de la Casa and Canillo, that we have in Daguisa Hotels would be perfect options because we have all the services to make your family feel at home, today I want to talk about this last option.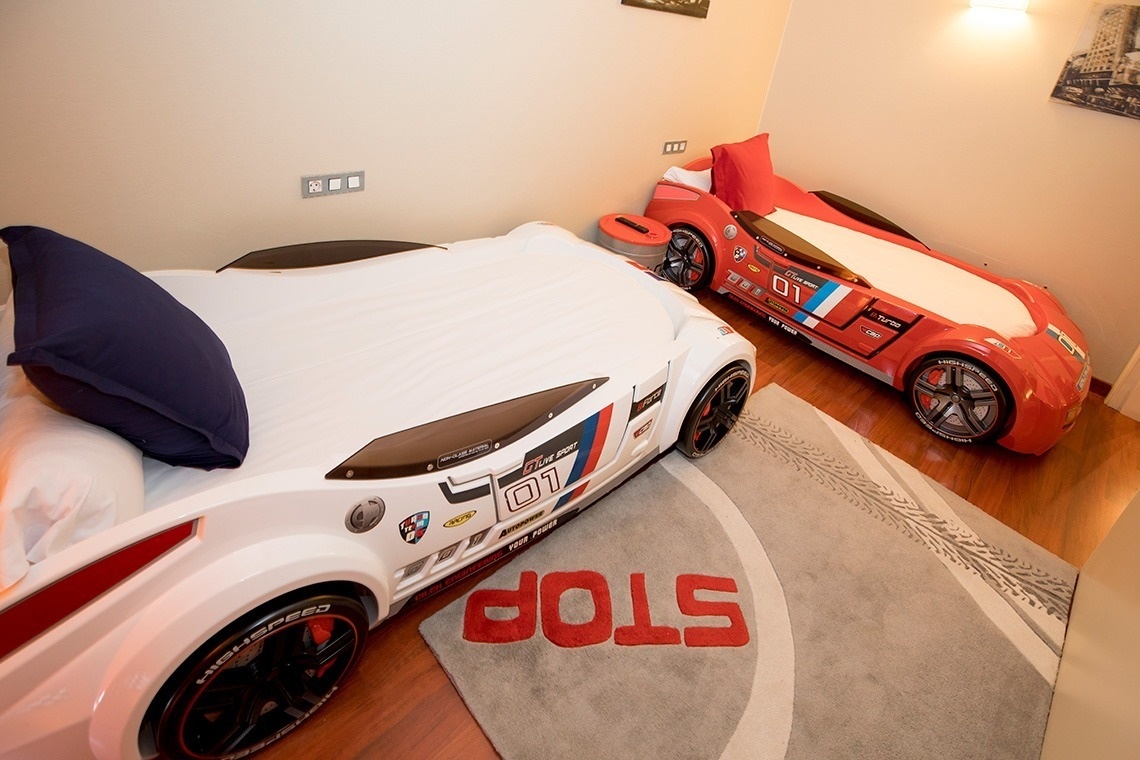 Hôtels & Préférence Font d'Argent Canillo Hotel 4*, is located just 75 meters from the cable car that will take you to the Grandvalira Family Park, where you can enjoy the mountain in all its fullness. But we also have themed family rooms, exclusive and set according to different themes that will make children have an unforgettable experience. Those experiences that later, when they return to school, will not stop repeating to all their classmates. Have you decided yet? In Daguisa Hotels we are waiting for you!
Núria Roure,
Commercial manager, Central Reserves and Revenue
Comentários