Your celebrations and family events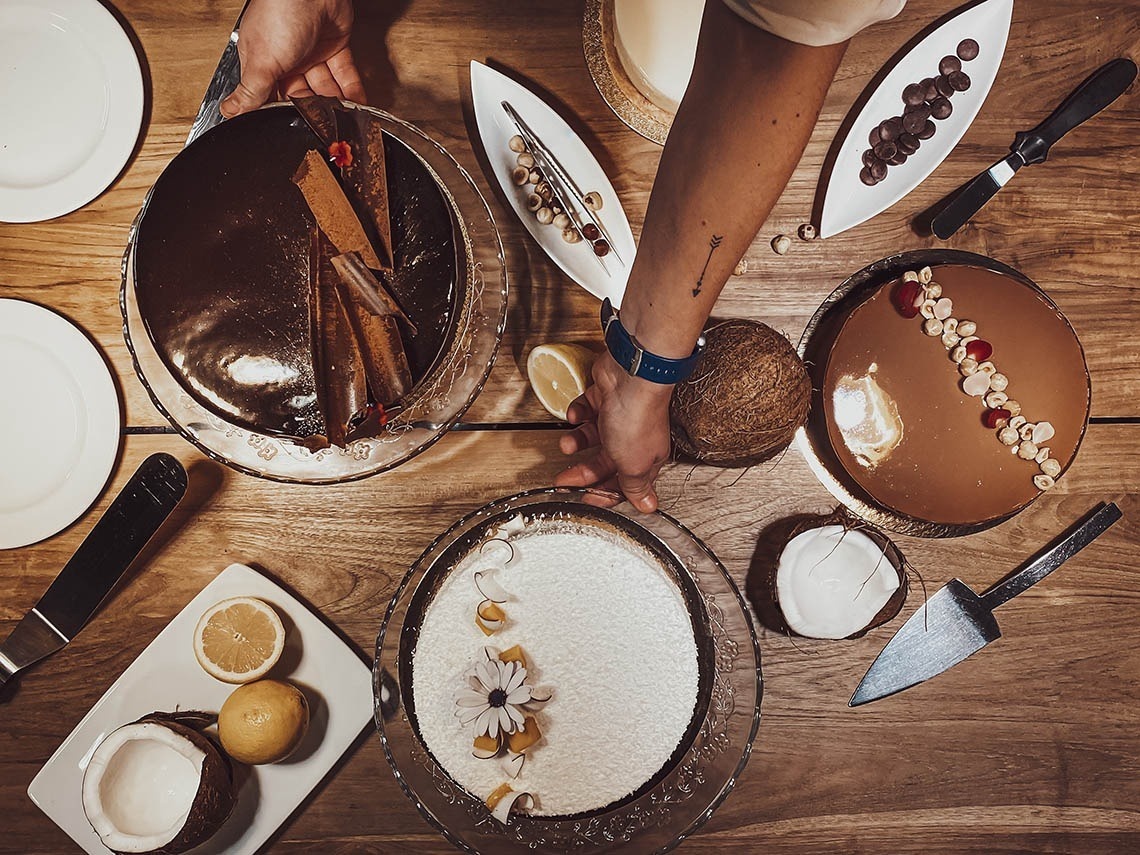 Your celebrations and family events
Your celebrations and family events, better with Daguisa Hotels
The month of May, as a general rule, is usually the month of the year in which most family celebrations are traditionally hosted, with weddings, christenings, communions and other events practically taking up most of our weekends. At Daguisa Hotels we want to do our bit in terms of organization, as we know that it is hard work, and because we know that in our establishments we have what is required to make the celebration a success.
And, if not, there is always the choice of taking home one of Le Petit Gâteau's cakes, our collection of French pastries for the most important celebrations by Laurette Lefrancois, our master pastry chef at the Golden Tulip Andorra Fènix Hotel 4*.

INDEX
- A unique day
- Our rooms at the Golden Tulip Andorra Fènix Hotel 4*
- Our rooms at the Tulip Inn Andorra Delfos Hotel 4*
- And in our mountain hotels
- The Little Cake
1. A unique day
Whether it is a wedding, a christening or any other family or social celebration, this day ends up being a special day, a date that will be remembered not only by the people involved, but also by those attending. After all, all our loved ones come together in the same place and at the same time for the same reason..
This is why, with the idea that everything goes perfectly, is a success and there are no problems or inconveniences, the organisation of this event can become a headache for the protagonists.
At Daguisa Hotels we are ready to organise any event, whether it is a wedding, communion, baptism, special dinners... We have different rooms, a panoramic terrace and special catering to make the celebration even more special. Everything possible.
In addition, all our staff will be involved in the organisation of the event, and will make sure that it will be perfect not only for the organisers, but also for the attendees.
2. Our rooms at the Golden Tulip Andorra Fènix Hotel 4*.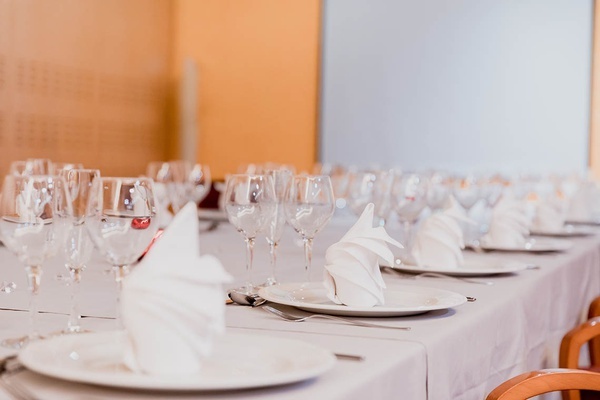 For those who wish to celebrate their special day at the Golden Tulip Andorra Fènix Hotel 4* we have two rooms at your disposal, the Selene and the Ariadna. In addition, depending on your needs, there is the possibility of joining both rooms to increase the surface area and capacity.

The first of the two, the Selene room, has a maximum capacity of 75 people and a total surface area of 88 m2. In the case of the Ariadna room, of 65 m2, the maximum capacity is 50 people. According to the guest list, we can reach a total of 125 people in 150 m2.

In addition, there is also the possibility of having our panoramic terrace at The RoofTop Van, with the best views of the entire centre of the country, available for the celebration.
3. Our rooms at the Tulip Inn Andorra Delfos Hotel 4*.
In the case of the Tulip Inn Andorra Delfos Hotel 4* we have three rooms with natural light, which can be combined together to reach a higher capacity of a total of 250 guests for the maximum surface area of 250 m2. The three rooms are the Valira room, the Setut room and the Madriu room. The first room can hold 50 people in its 65 m2. The Setut room can hold up to 70 people in its 75 m2 of floor space. Finally, the Madriu room is the largest of our establishments, with a total of 111 m2 where up to 130 people can gather.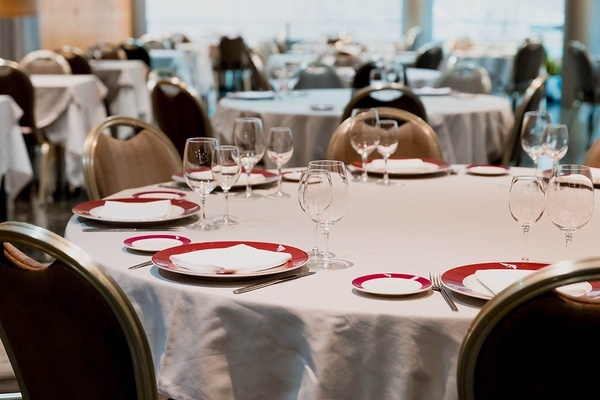 (image credit: Martin Imatge)
4. And in our mountain hotels
Not only do our hotels in Escaldes-Engordany offer the possibility of hosting the most special celebrations, but also our three mountain establishments, the Hôtels & Préférence Font d'Argent Canillo 4*, the Hôtels & Préférence Font d'Argent Pas de la Casa 4*, and the Hotel EuroSki Mountain Resort 4*, also have rooms prepared to organise your event in an intimate and cosy atmosphere.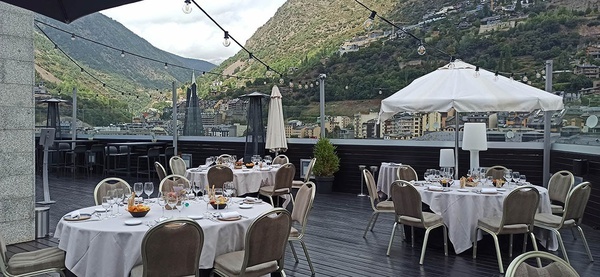 (image credit: Martin Imatge)
5. Le Petit Gâteau
However, at Daguisa Hotels we are aware that the venue is not always the biggest, or only, puzzle when it comes to organising our family celebrations. The cake also has its part to play. That is why we have created Le Petit Gâteau, a collection of French pastries for the most important events by Laurette Lefrancois, our master pastry chef, in Andorra.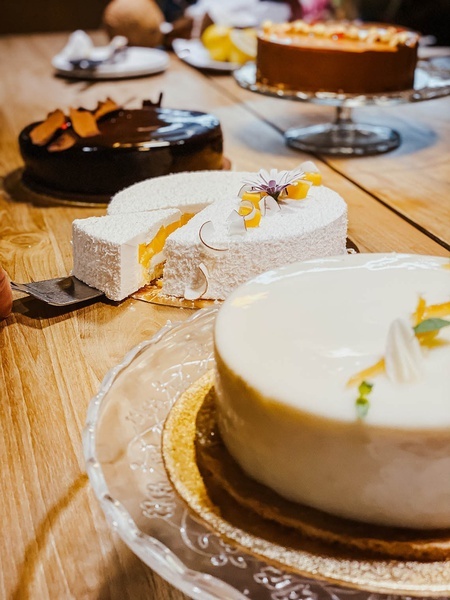 It is a small selection of the most important flavours represented in 4 cakes to celebrate everything. Craftsmanship, passion and quality are present in each of Lefrancois' creations. Renowned elements such as coconut and mango, milk chocolate, hazelnut, vanilla, caramel, dark chocolate, youzy and basil have been exploited in a powerful and simple collection of cakes that can be created in two sizes depending on the event and the number of guests, 18 or 22 cm:
• Yuzu and basil: Lemon sablé, yuzu gelled interior, yuzu and basil cream with yoghurt mousse.
• Milk chocolate and hazelnut: hazelnut biscuit, feuillantine, hazelnut cream and milk chocolate mousse.
• Dark chocolate, vanilla and caramel: Hazelnut biscuit, chocolate sablé, vanilla cream, liquid caramel and dark chocolate mousse.
• Coco y mango: Biscuit de coco, croustillant de coco, cremoso de mango con trozos de mango y mousse de coco.
For more information about the Le Petit Gâteau collection, please contact us by phone +376 760 760 or by email restauraciofenix@daguisa.com. If you are interested in our rooms, please contact our colleague Pilar Jiménez by phone +376 804 200 or by email pjimenez@daguisa.com.
Manager of the hotels Golden Tulip Andorra Fènix Hotel 4* and Tulip Inn Andorra Delfos 4*.
Comentários