Getaways for Couples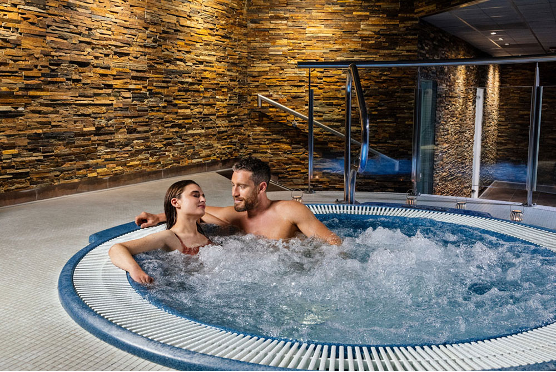 Go on a getaway with your partner!
Falling into a routine is surely something that every couple wants to avoid in order to keep the love alive in the relationship. For this purpose, getaways are always a perfect way not only to disconnect from our day-to-day lives but also to unite the bonds and ignite the flame of passion and love.
At Daguisa Hotels, we want to help you by proposing a romantic getaway to the Principality of Andorra, where you will find a wide range of plans and possibilities for all tastes to complete an unforgettable weekend with your partner.
INDEX
1. Anti-stress therapy
2. Nature for two
3. Culture for two
4. A romantic toast
5. A shopping getaway
6. The Love Room
1. Anti-stress therapy
One of the activities that every couple's getaway usually includes is relaxing in one of the spas around the country. The best known of all is Caldea, the temple of well-being and evasion thanks to its thermal waters. A unique experience in which to disconnect from work stress and benefit of all the advantages offered by hydrotherapy.
Inside, Caldea has a large complex of 12,400 m2 with a maximum capacity of 200 people designed for couples, Inúu. This is the exclusive area for adults only where you can spend some time alone with your partner in any of the different spaces, such as its indoor and outdoor waterfall-shaped lagoons, water seats, heated hammocks or private spaces.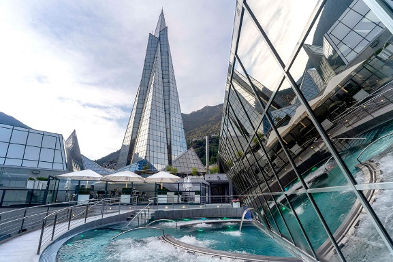 (image credit: Visit Andorra)
The center is located in Escaldes-Engordany, a few meters from our Golden Tulip Andorra Fènix Hotel 4 *, so it is a great choice if you want to dedicate time for yourself. In addition, you can take advantage of the package that we offer at Daguisa Hotels, which includes accommodation plus entrance to Inúu, which will also allow you to bathe in the Thermoludic and Origins areas. For more information call +376 804 200..
Also, did you know that the Golden Tulip Andorra Fènix Hotel 4* belongs to Andorra Health Destination? It is an Andorran association of companies, supported by Andorra Business, that offer a quality health product focused on the consumer. Formed by 16 companies that meet high quality standards, such as the wellness area of our hotel, where you can also relax.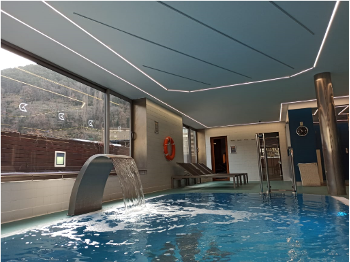 (image credit: Andorra Lovers)
2. Nature for two
Why not take advantage of the captivating nature that Andorra offers in your romantic getaway? The country offers a multitude of hiking trails where you can breathe fresh air and spend moments of intimacy wherein you can rekindle your love while getting to know the geography as well as the flora and fauna of the Principality. There are options for all tastes and physical states, either to climb peaks and make long excursions, or spend a day with one of the hiking trails.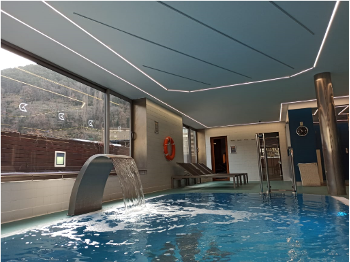 (image credit: Visit Andorra)
Of course, do not forget to go over the bridge of La Margineda, the largest preserved medieval bridge in Andorra located on the royal road from Sant Julià de Lòria to Andorra la Vella, an ideal setting to live a unique moment (why not get engaged there?). Visit the Juberri Gardens, at an altitude of 1,275 meters in Sant Julià de Lòria, where all kinds of artistic figures and sculptures and animals are intermingled in the forest.
3. Culture for two
Relax, disconnect, experience the nature of the country... and soak up the culture and history. Discover the evolution of the country through its many museums and get to know what the country was like in the 19th century and let yourself be surprised. Because every couple getaway can include moments to expand our knowledge and learn more about the country that welcomes you.
4. A romantic toast
There are trips that are more special with a glass of wine in hand. Therefore, you can include wine tourism in your getaway plans where you can learn more about the wines of the valleys of Andorra, which have a distinct personality. Discover the cellars of Casa Auvinyà, Casa Beal, Celler Mas Berenguer, Casus Belli or Borda Sabaté 1944 and taste the best wines.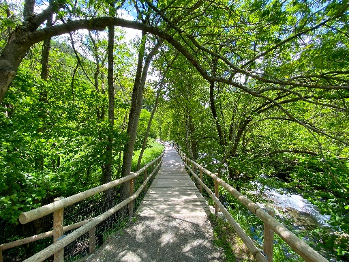 (image credit: Andorra Lovers)
You can complete your trip with a gastronomic activity, in a pleasant and relaxed atmosphere. That's why we recommend experiencing the flavors and textures of the signature tapas of our The Lobby Bar, for lunch or dinner, without having to leave your hotel.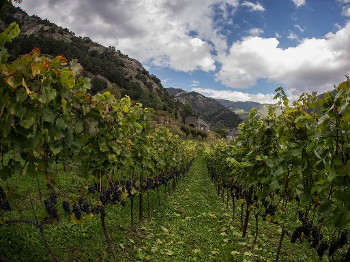 (image credit: Andorra Lovers)
5. A shopping getaway
The Principality of Andorra is also known as a shopping destination, and doing it with your partner can offer the opportunity to buy a gift to surprise them.
Walk through the different shopping centers and the more than a thousand stores located mainly on Avenida Carlemany (next to our hotels, Golden Tulip Andorra Fènix Hotel 4* and Tulip Inn Andorra Delfos Hotel 4*) where you will find products of the most prestigious international brands with the latest in technology and consumer electronics, the latest fashion trends, the most exclusive perfumes and cosmetics, among others.
6. The Love Room
The icing on the cake of this romantic getaway is, without a doubt, the Margarita Suite at the Golden Tulip Andorra Fènix Hotel 4*. It is a room designed for love with all the details to make your stay unforgettable.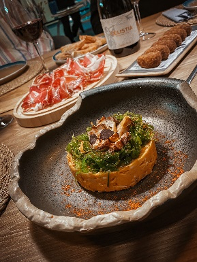 It is the first and only room of this style in Andorra, with ambience, complements and decoration ideal for these special nights. In addition, it is equipped with Clean Wifi, the latest technology scientifically tested and proven to compensate for the electromagnetic pollution generated by the many electronic devices that surround us.
The Margarita Suite offers a concept of romantic use where the central element is the bed with movement to enhance and make the couple's relationships more fun, bringing new sensations to romantic getaways. In addition, you can control the romantic music that invades the entire room and configure the LED lighting system.
What are you waiting for? We are waiting for you at Daguisa Hotels!
Maria Baraldés
Assistant Manager of the Golden Tulip Andorra Fènix Hotel 4* and Tulip Inn Andorra Delfos Hotel 4*
Comments