Nature, sport and leisure in autumn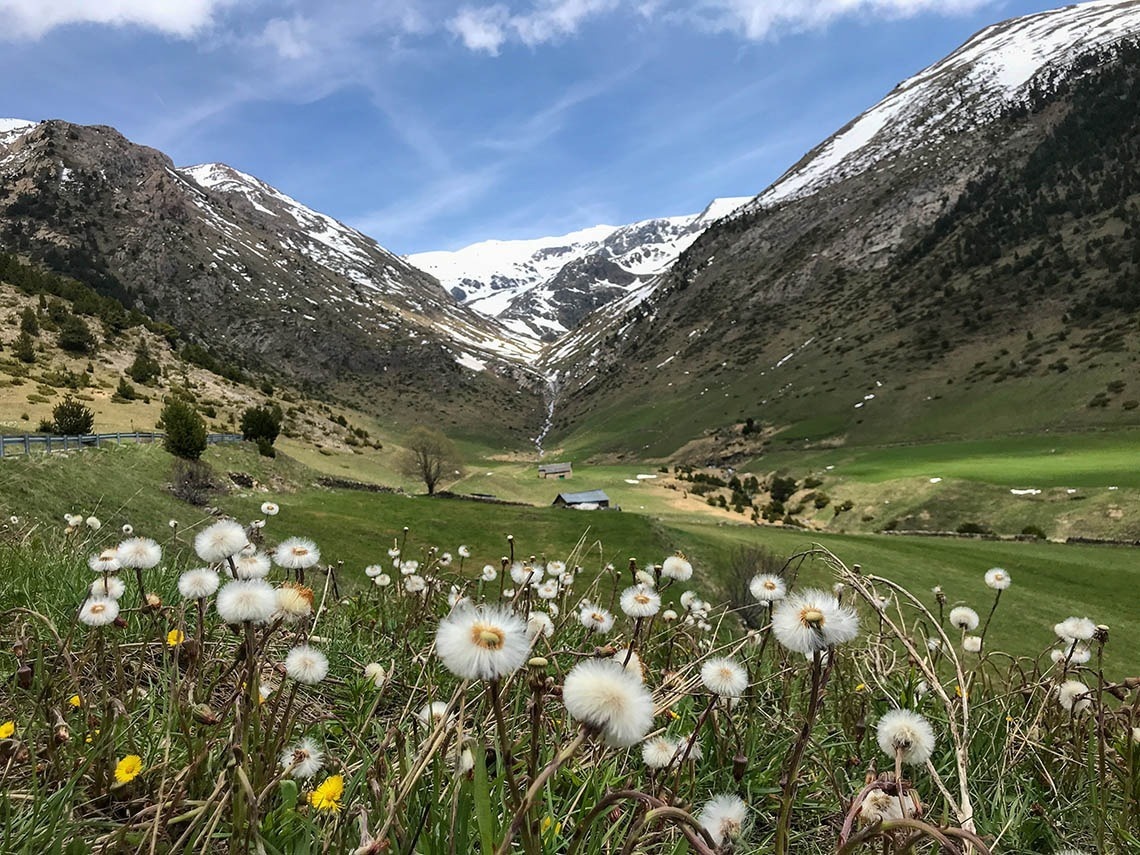 Nature, sports and leisure in autumn
Despite its size and the image that the Principality of Andorra is always seen as a winter or shopping destination, the country is much more than that and now, in autumn, there are many options for unique experiences before the mountains are completely covered with the white blanket of snow. Your next getaway will allow you to discover dream places and share unique moments with your people. That's why I suggest several plans for when you come with your partner or friends.
INDEX
1. The pleasure of sharing a route
2. GRP: around the Principality
3. To the rhythm of the pedal
4. MTB in Andorra
5. Discover via ferratas and overcome vertigo
6. Full speed ahead!
1. The pleasure of sharing a route
Andorra offers hundreds of walking routes that can be enjoyed better and in a more special way if done in a group. The country's mountains and forests provide the ideal setting for unforgettable memories, which you can capture in photographs and videos, or in experiences that will remain in your memory forever. There is a wide range of routes, so you can choose the one that best suits your fitness level, the distance you want to complete and, of course, where you want to go.
For example, one option is the Tristaina Lakes route, one of the most popular routes in Ordino, a Unesco Biosphere Reserve since October 2020, and in the whole country. Along its 4.39 kilometres, which you can cover in about three hours, you will not only pass by the lakes that give the route its name, but also the Arcalís 91 monument, a spectacular steel ring four metres in diameter that seeks a symbiosis between natural and geometric laws. This is a moderately difficult route, suitable for hikers of all levels, with a cumulative difference in altitude of 210 metres or so.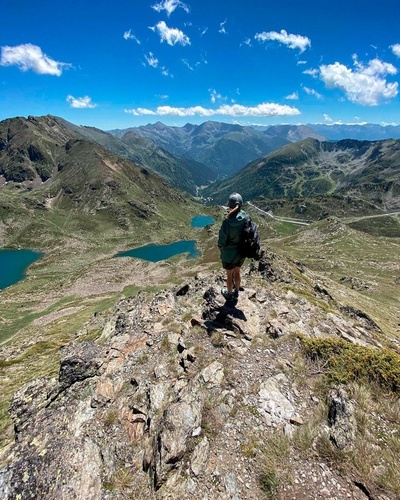 2. GRP: around the Principality
To get to know a place better, you have to explore it on foot. And there is no better reference than the GRP, the country's long-distance footpaths. Specifically, we are talking about 120 kilometres in length, with a gradient of more or less 800 metres, which in some sections converge with the two GRs that cross the Principality, the GR7 and the GR11, as well as the cross-border GRs 1 and 2.
The GRP of Andorra is divided into seven stages of between 12 and 20 kilometres, where you will find various high mountain refuges where you can rest, spend the night and continue the route. This is an option for more advanced hikers due to its difficulty.
The seven planned stages are Aixovall-Refugio de Claror (24.1 km), Refugio de Claror-Refugio de la Illa (12.57 km), Refugio de la Illa-Hotel Peretol (12.13 km), Hotel Peretol-Refugio de Juclà (10, 36 km), Juclà Hut-Hotel El Padret (20.7 km), Hotel El Padret-Refugio de Comapedrosa (19.26 km), and the last stage from the Compadresoa Hut to Aixovall (19.58 km). By the way, did you know that at the end of the route you can receive a diploma and a prize from the Ministry of Tourism?
3. To the rhythm of the pedal
Andorra is undoubtedly a paradise for cycling lovers. Many of the country's attractions can be discovered on two wheels. In fact, proof of this is that the country's roads are often the setting in summer for the great cycling routes, such as the Tour de France or the Tour of Spain. Why not follow one of these legendary stages?
However, you don't need to be a professional, as any amateur can enjoy nature at a pedalling pace as you climb the various mountain passes, such as Port d'Envalira, Coll de la Gallina or Collada de Beixalís, but you can also look for less demanding but equally exciting routes with gradients of less than 150 metres, which will take you through the various valleys of the country. Of course, you can also look for less demanding but equally exciting routes with gradients of no more than 150 metres, which will take you through the various valleys of the country. Let's get pedalling!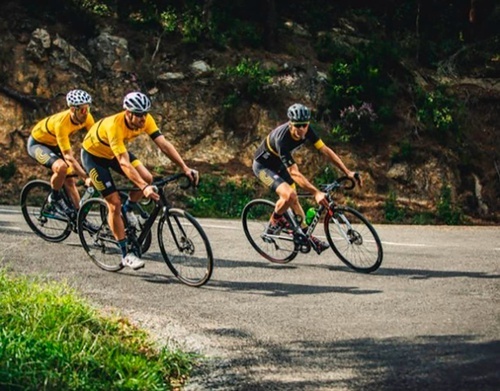 4. BTT in Andorra
Andorra not only offers a wide range of routes for road cycling, but mountain biking enthusiasts will also find Andorra to be the ideal destination. It is no coincidence that the Principality often hosts prestigious international events, such as the MTB World Cup. Closely linked to the mountains and forests, mountain biking is a sport that allows you to enjoy this great natural treasure.
With more than 200 km of routes and descents you can experience great challenges for all levels in all parishes. Even the youngest can take their first steps in this exciting sport with low difficulty proposals.
However, if you prefer, you can go mountain biking in the best facilities dedicated exclusively to this sport, Bike Parks, which are a real reference point for enthusiasts.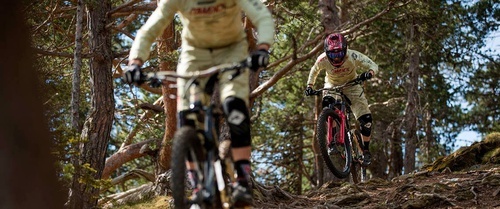 5. Discover via ferratas and overcome vertigo
The mountains can be climbed on foot, on a bicycle and, why not climb them? The privileged orography of the Principality offers a wide range of possibilities thanks to the great development of climbing, with first class facilities for beginners, to improve or even to test your experience and skills, as there are routes for all levels.
Without a doubt, via ferratas are one of the most incredible sensations you can experience, rewarding your eyes with unique landscapes: the beauty of the landscapes will envelop your ascent metre by metre.
And if you are thinking about where to go climbing, with a list of more than thirty proposals, you will practically find a place close to where you are, whether it is the via ferrata of Sant Vicenç d'Enclar, the Coll dels Isards, La Canaleta, Sant Antoni de la Grella, the Roc de la Coma d'Erts or El Pico de Ribuls. Overcome vertigo with any of these options!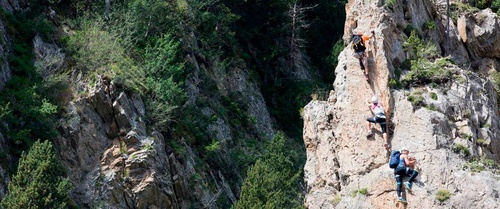 6. Full speed ahead!
This autumn, on your next visit with your friends or partner, you can take the opportunity to enjoy a fun and exciting activity that will allow you to challenge each other: racing go-karts. Circuit Andorra Pas de la Casa is an ideal setting, with a track almost 1,000 metres long where you can race and have a great time.
Another option is the Pla de la Caubella electric karting, in the Pal sector of the Vallnord Pal-Arinsal ski resort. A 400-metre track where you can put your driving skills to the test with a fully electric vehicle that is easy to drive and can reach 60 km/h.
Challenge your friends! Who will be the fastest?
Lucas Salmes
Daguisa Hotel Font d Argent Canillo
*Image credit: Visit Andorra
Comments