The best ideas for a luxurious after-work in Andorra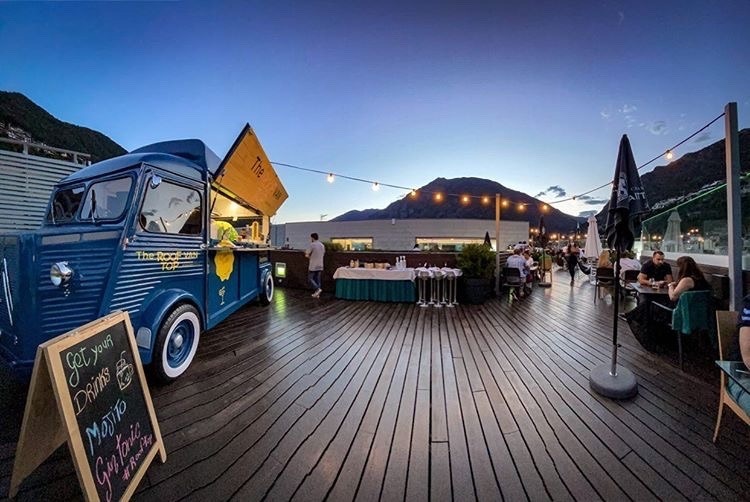 In September, many clients travel to Andorra for work purposes. If you want your stay in the Principality to not be just purely work-related, we propose four irresistible after-work plans.
1. Take advantage of the afternoons in our terrace
A little over a month ago, we opened
The RoofTop Van
terrace on the sixth floor of the
Hotel Golden Tulip Andorra Fénix 4 *
. This new leisure space is ideal for casual dining or a drink after work. It is also a good place for a more relaxed work meeting while enjoying the sunset. What will you find? Very good atmosphere, shows starting at 8 pm on Thursdays in September, panoramic views of the whole of Escaldes-Engordany and, as the main attracion, a food truck
.
This new gastronomic space offers a casual menu with salads, hamburgers, and cold cuts that can be accompanied with glasses and bottles of wine, or cocktails from the brand that has revolutionized this sector, Nio Cocktails, with drink such as Milano Torino, the Manhattan or Tomy's Margarita. In addition, we have Taittinger champagne that you can enjoy in bottles or glasses.
2. Treat yourself to a Caldea experience
After a hard day at work, there is nothing like relaxing and finding yourself in this thermal center, which is a five minute walk from our hotel.
Caldea
is the benchmark SPA in Andorra, thanks to its revolutionary thermoludic concept and facilities that make it the largest thermal SPA in southern Europe.
With its more than 30,000 square meters, you will find different pools, jets, waterfalls, and bubbles for a well-deserved rest. All this, with natural waters that emanate at 70ºC providing health in abundance. In Caldea, it is also possible to reserve a time for one of your massages and be recharged!
3. Stroll and shop
Another activity in Andorra for a luxury after-work is strolling quietly along Avenida Carlemany de Escaldes-Engordany, which is the principal shopping district of the Principality and the continuation of Avenida Meritxell in Andorra la Vella. Clothing stores and fashion accessories, technology, perfumeries, and a large shopping centre. Next to the hotel, you have a shopping paradise that, on many occasions, you do not have time to do in the city where you live.
4. Meet the most influential culture
Very close to the hotel, you can also visit
the Carmen Thyssen Andorra Museum
. Its private collection is one of the main cultural attractions of the Principality, given its international character. It has different permanent and temporary exhibits. Until January 10 of next year, it is possible to visit "Influencers in Art. From Van Goyen to 'Pop Art'".
The twenty seven works that make up this exhibition are from different periods and styles, but all of them have something in common: their authors have been influential in the period in which they have lived. Artists like Jan Josefsz Van Goyen or Auguste Rodin, among others, show their artistic heritage and, at the same time, their influence, which goes beyond their time, reaching today.
We are waiting for you in Andorra so that you can enjoy your best after-work !
Lucas Sames
Director of Daguisa Hotels
Comments